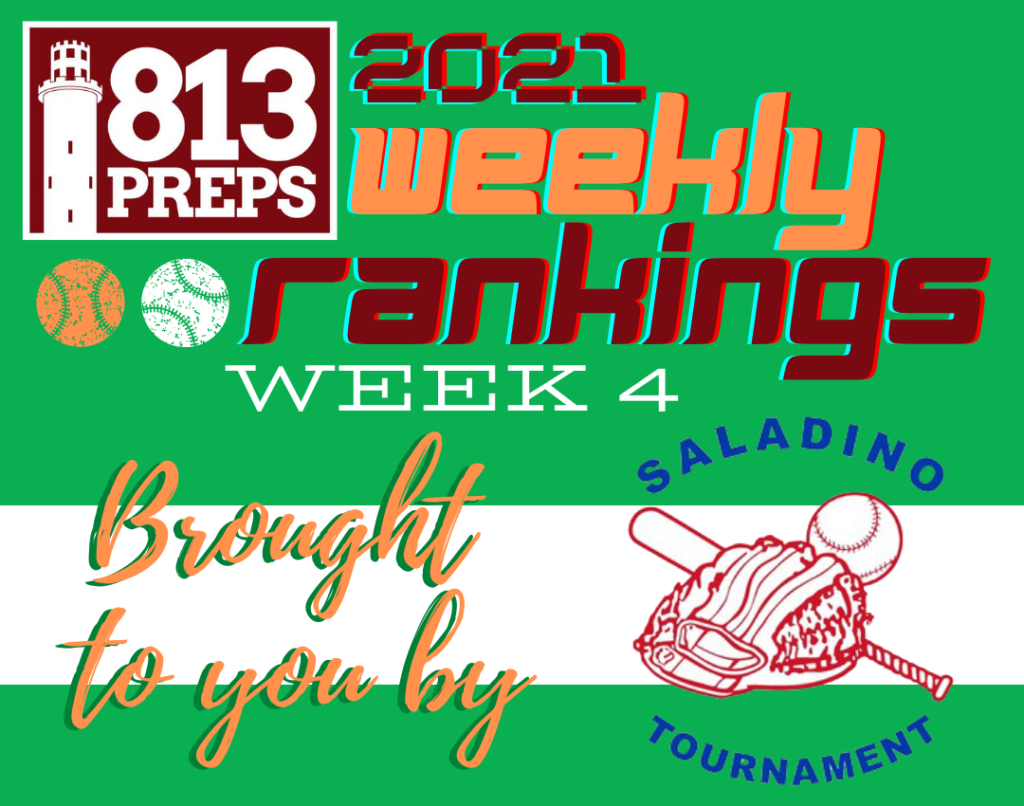 1. Jesuit (8-1)
Jesuit dispatched Jefferson and Sarasota with 3-0 wins last week, before opening Saladino play with another victory over the Dragons, 7-2. Tough to pick a highlight of the week as Wes Mendes earned a win in the first win against Jefferson, and homered and drove in five during the second; or Jake Kulikowksi hitting his third dinger of the season, but our nod has to go to senior Dominic Castellano, who pitched a complete-game no-hitter against the Sailors, striking out eight (which you can learn more about here). [Last week: No. 1]
Up next: Saladino Gold winner's round v Sickles – tonight, 5 p.m.
2. Sickles (6-1)
Sophomore Hayden Yost's leadoff double and run scored was enough for senior pitchers Holden Wade (6ip, 4 hits, 10 K's) and Bobby Christy (S, 1 K) to hold off Plant as the Gryphons claimed a 1-0, district win last Tuesday. Sickles started the Saladino weathering a four-run Riverview inning to claim a Round 1 win (click here to read about it) and set up tonight's No. 1 vs. No. 2 showdown at Jesuit. [LW: No. 4]
Up next: Saladino Gold winner's round at Jesuit – tonight, 5 p.m.
3. Strawberry Crest (9-1)
With a win over Tampa Bay Tech and a pair of wins over Newsome (including in Saladino play which you can read about by clicking here), the Chargers are winners of six straight. Over the last three games, sophomore Zach Redner has been on a tear, going 6-for-11 at the plate, with a double and five RBI, while striking out nine on the mound in just 4 1/3 innings of work. [LW: 6]
Up next: Saladino Gold winner's round v Plant City – tonight, 7 p.m.
4. Wharton (8-2)
Outscoring opponents 22-0 in three wins last week, the Wildcats offense is clicking right now. Starting with Ryan Fry's no-hitter against East Bay (read about it here), and ending with a Saladino Saturday win against Leto, the Wildcats offense has started with gusto as senior leadoff hitter Dylan McDonald went 8-for-11 during the stretch, scoring five runs, driving in five runs, doubling three times and hitting a home run in his four-hit game against Leto (click here). [LW: 8]
Up next: Saladino Gold winner's round v Alonso – at Jesuit, tonight, 8 p.m.
5. Berkeley Prep (8-2)
The Buccaneers picked up wins over Tampa Catholic as senior Andrew DiMisa got things started with an RBI single and RBI double in the first two innings, and Berkeley defeated River Ridge last week. But the Bucs will likely be looking to cleanse the palate after a mercy-rule perfect game thrown against them by Calvary Christian on Friday. [LW: No. 2]
Up next: Tues, 3/16 v Northside Christian; Fri, 3/19 v Clearwater Central Catholic
T-6. Durant (7-2)
The Cougars started the week dropping a tight, 3-2 game to Newsome, but picked up wins over Leto and Steinbrenner (in Saladino play and we had it covered here). Senior Sean Hermann made two appearances on the mound last week, striking out 17, including a complete-game against Steinbrenner on Saturday. [LW: 5]
Up next: Saladino Gold winner's round v Lennard – tonight, 7 p.m.
T-6. Bloomingdale (8-2)
Senior Marlon Bowen's five RBI night lead the Bulls over Leto on Tuesday (which we've got you covered on by clicking here), but Bloomingdale came up short in its Saladino opener, dropping an extra-inning slugfest to Alonso. [LW: No. 3]
Up next: Saladino Gold consolation round v Leto – tonight, 7 p.m.
8. Plant City (7-3)
A pair of shutouts for the Raiders last week as PC defeated district foes Armwood with Preston Rogers (W, 5ip, 7 K) and Tanner Rollyson (S, 2ip, 4 K) leading the victory from the mound; and a 4-0 win over Gaither in Saladino play as sophomore Adan Longoria earned his third win of the season, and Rollyson mopped things up with another two innings of work (read our gamer here). [LW: No. 10]
Up next: Saladino Gold winner's round at Strawberry Crest – tonight, 7 p.m.
9. Hillsborough (7-2)
We brought you coverage of Skyler Netolicky and Caden Ross's combined no-hitter from Wednesday (we covered that one, too), and the Terriers again took care of the Knights Saturday in Silver Bracket Saladino play. The Terriers also fell in a Thursday meeting with red-hot Wharton, but Hillsborough stands pat at No. 9 again this week. [LW: No. 9]
Up next: Saladino Silver play at Brandon – tonight, 7 p.m.
10. Alonso (7-3)
It was three wins for the Ravens last week as Alonso picked up a district win over Steinbrenner, took care of things early against Chamberlain, and struck late with a Hector Montilla two-run double to defeat Bloomingdale (click here for more on this one) and advance in the Gold winner's bracket of the Saladino in extra-innings – all moving the team into our Top 10 for the first time this season. [LW: No. 11]
Up next: Saladino Gold winner's round v Wharton – at Jesuit, 8 p.m.
On the Bubble
11. East Bay (7-3)
12. Foundation Christian (6-1)
13. Seffner Christian (6-2-1)
14. Leto (6-4)
15. Tampa Catholic (6-4)
Dropping out this week: Jefferson (3-3); Newsome (3-5); Riverview (4-4).